MATHIOS REFRACTORIES is your trusted partner when it comes to metallic support elements and fibers.
Choosing the correct type of steel alloy for each application is of great importance, as it can not only affect the strength and stability of the lining but also its lifespan. Properties such as Modulus of Elasticity, Proof Strength (Rp), Elongation, Maximum Application Temperature, Rupture Strength, corrosion resistance, proneness to Sigma-Phase Embrittlement must all be carefully considered and examined in conjunction with the specific environment and loads these support elements will be required to withstand, in order to maximize strength, stability and lifespan.
Apart from the properties mentioned above, the geometry of each support element must be chosen in such a way it will allow it to adequately bear the loads imposed on it. As part of our Engineering services we can advise you on all of the aforementioned topics and also provide you the necessary support placement plan.
We are capable of delivering a vast variety of different metallic support elements such as, but not limited to anchors, brackets, retainers, hexagonal meshes, studs, pins and metallic fibers both in shape and quality. If required, these supports can be pre and / or post forming annealed.
For higher temperatures and special applications such as suspended roofs, we can supply you with the proper ceramic anchor bricks.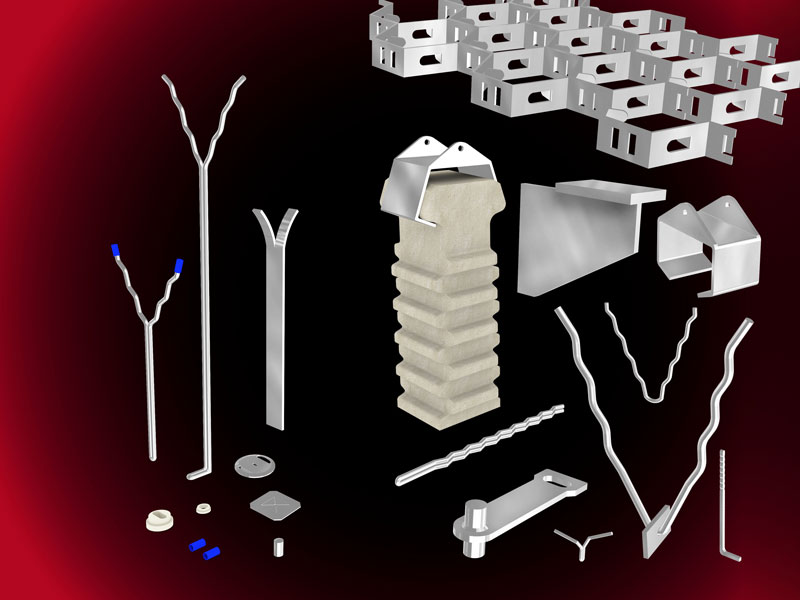 | | |
| --- | --- |
| EN | AISI |
| 1.4835 | 253 MA |
| 1.4301 | 304 |
| 1.4307 | 304L |
| 1.4948 | 304H |
| 1.4833 | 309S |
| 1.4828 | 309 |
| 1.4845 | 310S - 310 |
| 1.4841 | 314 |
| 1.4404 | 316L |
| 1.4864 | 330 |
Contact us today to learn more about the metallic support elements and fibers we can offer you.
Contact us