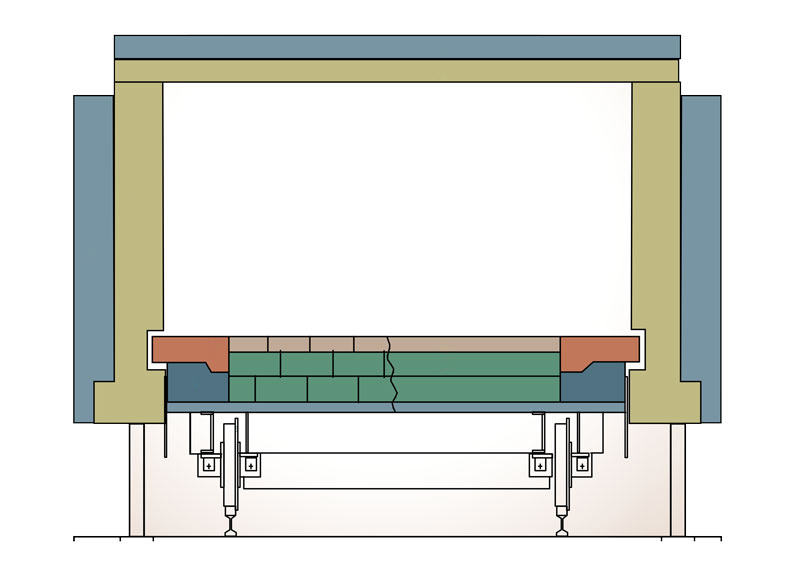 | | | |
| --- | --- | --- |
| Refractory Lining | Prefabricated Shapes | Refractory Lining |
| Insulating Lining | Outside Walls | Insulating Lining |
Kiln cars transport goods to be fired (such as pots, masonry bricks etc) in and out of a tunnel kiln. Their refractory materials must hence be able to both support the weight of the products and withstand the high temperatures of the kiln's interior, with the latter being also the case for the kiln's refractories.  Insulation of the kiln and car is also important in order to minimize heat loses and maintain the temperature at the desired level, while conserving fuel at the same time.
The refractory materials offered by MATHIOS REFRACTORIES are tested and proven by the ceramics industry around the world. Products from the following lines are recommended by our experts:
IDEAL: Alumina (Al2O3) bricks, with formulations based on calcined fireclay, mullite and bauxite, are used as car and kiln refractory linings
MAT PLUS: Alumina (Al2O3) low cement castables (LCC), with formulations based on chamotte and bauxite, are used car and kiln refractory linings
MAT PLUS MC: Alumina (Al2O3) medium cement castables (MCC), with formulations based on chamotte, are used as car and kiln refractory linings and car prefabricated shaped
MAT: Alumina (Al2O3) regular castables (dense), with formulations based on chamotte, are used as car refractory linings and prefabricated shaped
MAT: Alumina (Al2O3) insulating castables, with formulations based on light weight chamotte, expanded clay and perlite, for use as car and kiln insulation linings