High Quality Materials to Resist Heat
Each industry has different needs and each production phase is different, imposing a variety of challenges on the refractories lining it.

No single refractory, or refractory type, suits all applications.

That's why we offer a complete range of refractory products, tailored to each production step. Mathios Refractories develops, manufactures, and sells innovative refractory products and lining systems, which are matched to the latest technological developments and environmental regulations, and today is among the best solutions for refractories.
Our products which set performance benchmarks for the industry, include:
UNSHAPED REFRACTORIES:
Dense Castables (MAT)
Medium Cement Castables (MAT PLUS MC)
Low Cement Castables (MAT PLUS)
Ultra Low Cement Castables (MAT CAST, MAT MICRON)
Medium Cement Gunning (MAT GS)
Low Cement Guning (MAT LG)
Insulating Castables (MAT)
Insulating Guning (MAT G)
Patching Materials (MAT RAM)
Plastic Ramming Materials (MAT RAM)
Refractory Mortars (MAC, MAT MOR)
Self Flowing Low Cement Castables (MAT PLUS SF)
Self Flowing Ultra Low Cement Castables (MAT SF)
No cement Castables (MAT NANO)
SHAPED REFRACTORIES (IDEAL):
Fireclay Bricks
High Alumina Bricks
Andalusite - Mulite - Silimanite Bricks
SiC Containing Bricks
Acid Resistant Bricks
Prefabricated Shapes
Mathios Refractories S.A. fail-safe packing system
Mathios Refractories S.A. implements an integrated packing system to make sure its products are easily distinguished by end users and installers. The goal of this packing system is to minimize losses, energy consumption and ensure that the installation is completed without mistakes.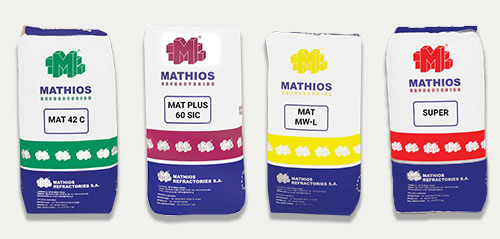 Packing of products is differentiated as follows:
Green bags:
dense castables & gunning materials
Maroon bags:
medium, low & ultra cement castables
Yellow bags:
insulating and insulating gunning materials
Red bags:
mortars & ramming materials